2 Day Weaving Course – Creative Weaving with Susie Gillespie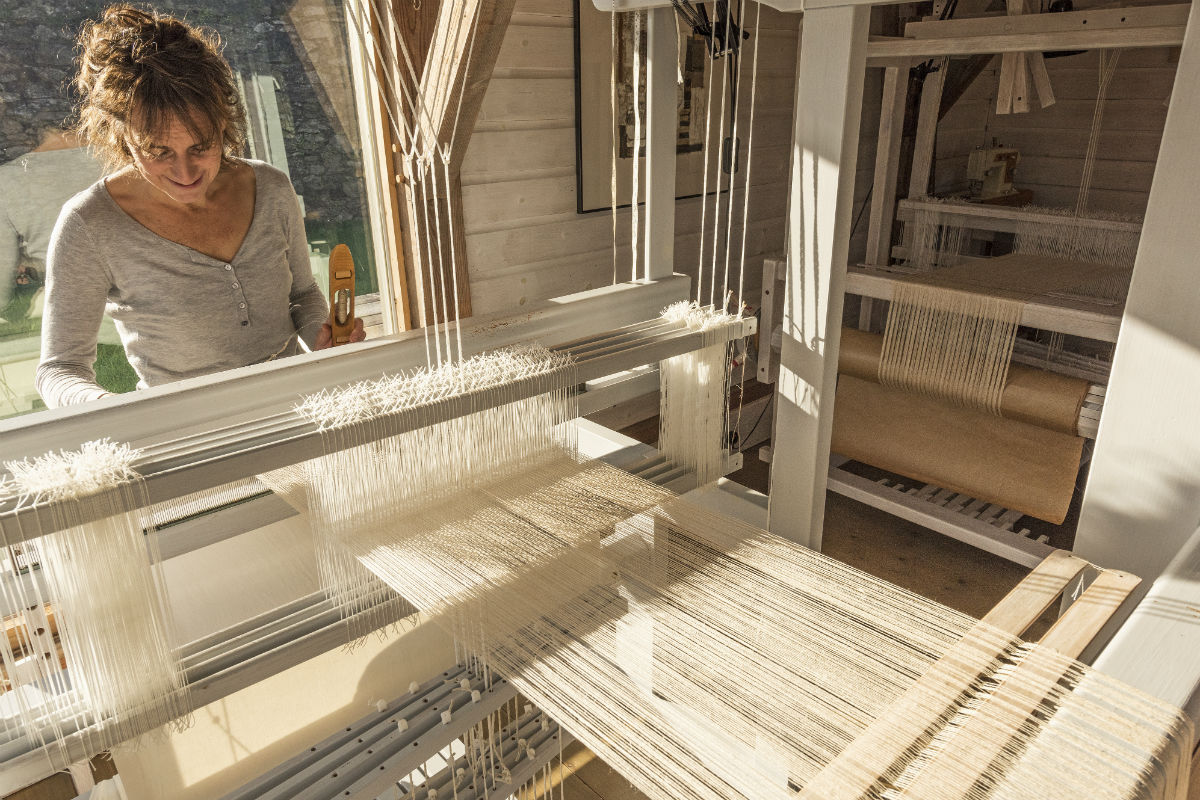 2022 course dates:
We are hoping to run some courses later on in the yeart. Please let use know if you are interest in coming.
Set in our orchard next to a 15th century cider farm it is a lovely place to be inspired. The course is suitable for complete beginners or experienced students. I can show you basic weaving techniques as well as unusual ideas in weaving. You will be able to make your own artwork, cushion cover or needle-case.
I have 6 large four shaft floor looms set up with a linen warp ready for you to begin the creative process of weaving the linen into cloth to produce your artwork, cushion cover or needle-case.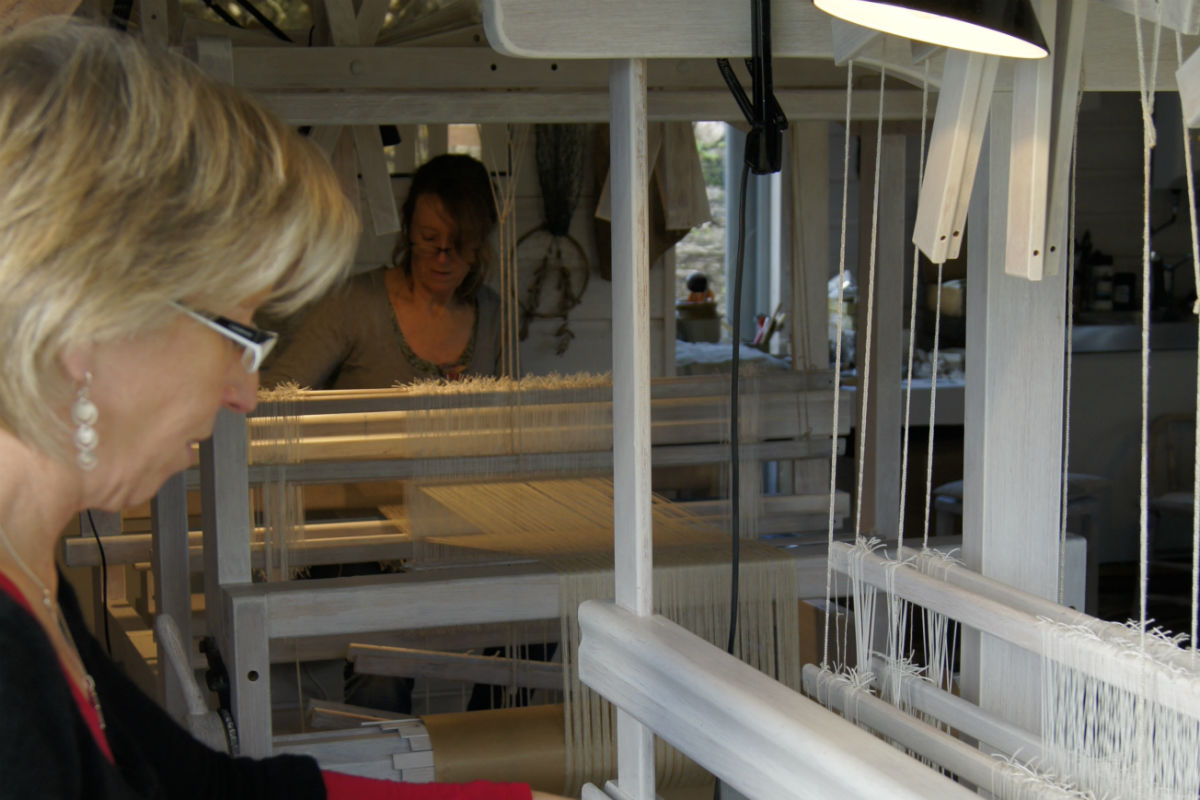 The weaving I teach isn't really like conventional weaving as it is done more by hand, creating an uneven texture with inlaying and wrapping. I must say people who come do really seem to enjoy it.
The two day weaving course includes refreshments and materials.
Barn-House Accommodation – In the orchard next to my studio we have barn-house accommodation available. To find out more please visit the Accommodation tab above.
To enquire about course availability please click here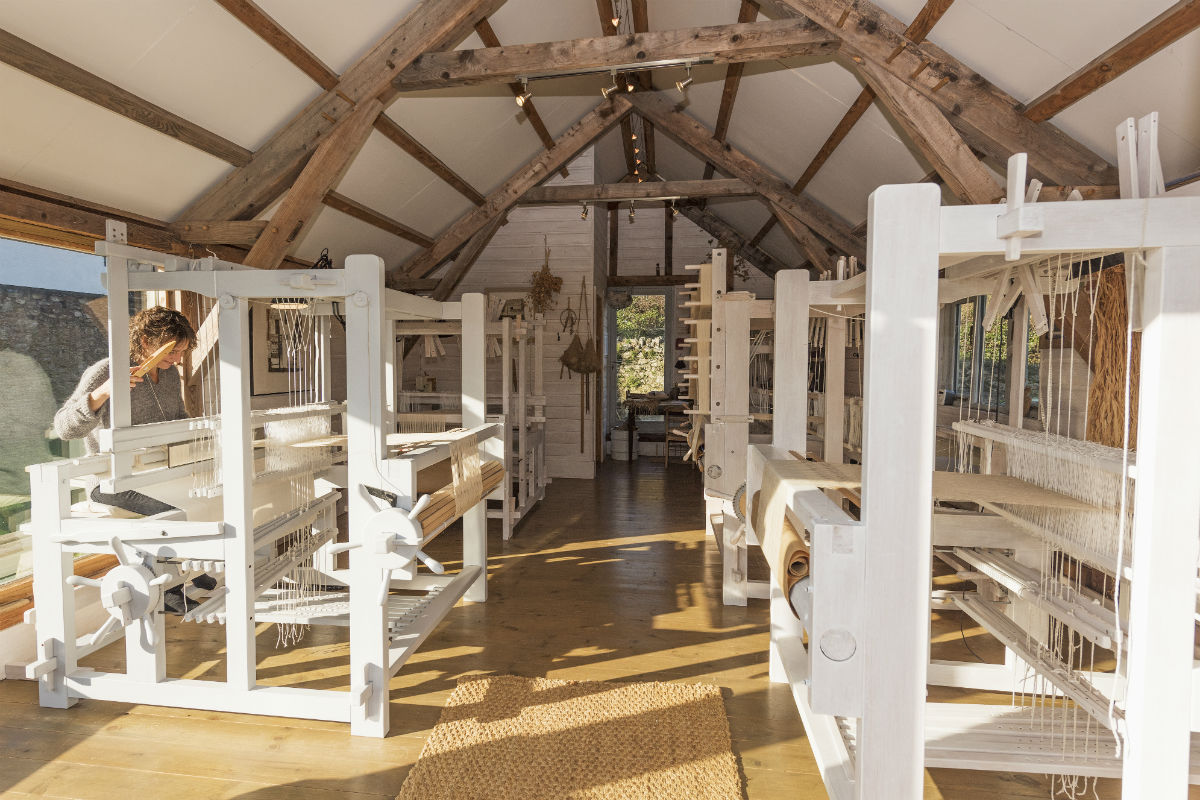 Please use the contact tab above to enquire about courses and accommodation availability, I think I'm not always receiving the messages at the moment, if I don't get back to you within a day or two please try again or message me through Instagram. Thanks Susie.
I also have gift vouchers available if you would like to give a course as a present.

Please follow us on our instagram page by clicking here.
2022 course dates
We are planning to run more courses later on in 2022 . Please let use know if you are interest in coming.
Customer reviews

"I adored everything about attending this course, Susie, the setting, the workshop itself, the flax, the colours, the lunch, the inspiration. The whole experience was completely wonderful. I never thought I'd find anything to top my love of sewing, but this course has me completely hooked. If Susie opened a weaving school I'd be front of the enrolment line. Bravo Susie. You are brilliant. Can't wait to come again." Catherine Bailey
"Loved every minute! Two days spent in a beautiful, light and airy converted barn, with excellent looms waiting to be used, and beautiful shades of linen to weave with. Susie creates a relaxed and friendly atmosphere. As a complete beginner to weaving, I delighted in the inspiration in Susie's work, and she strikes a good balance between instruction and leaving you to explore the possibilities of her particular style of producing a piece of weaving. This informal method of weaving is wonderful, and I was thrilled to come away with a wall hanging. Susie also provides a delicious lunch, cake, coffee – heaven! Who needs a spa day when you can do this!! Can't wait to come back. Thank you Susie." Hilary Shuck

"I came on this course with 3 friends and we were all delighted with our choice. The setting is beautiful and tranquil and really added to the experience. Susie explained clearly and effectively how to get started and we were very pleased to all be weaving within half an hour of starting. The lunch was delicious and the ginger biscuits were sublime! At the end of the two days we all came away with a finished piece of work feeling relaxed and satisfied. I would love to go again and will definitely recommend this course to friends." Mary Wells

"Susie is a very creative weaver, so plenty of ideas and inspiration and I was soon exploring the possibilities of wrapping and hole making, then adding in other materials to create wall hangings.
The