Inspired by ancient textiles, earth, stone, vegetation, and decomposition.
UNUSUAL AND CREATIVE TECHNIQUES IN WOVEN ART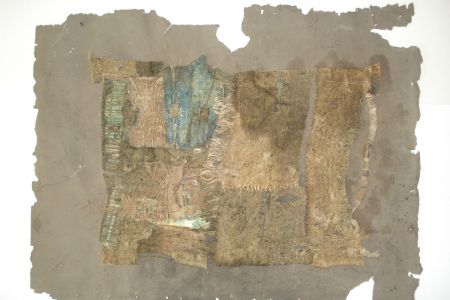 April 26th, 27th, 28th, 29th
On this 4 day Woven Art Course I will show you some of the techniques I use in my work which have been inspired by my fascination with ancient textiles.
I am always struck by what a human thing it is to make cloth from bits of organic fibre.
Looking at ancient textiles I am aware of the hands that had processed wool, nettle, linen into fibres to be spun, and of the hours spent at the loom to produce a small quantity of cloth. Textiles were valued, each piece being put to good use, gradually being cut down and re-used, before returning to the earth. 

When you arrive on the course I have large four shaft floor looms set up with a linen warp ready for you to begin the creative process of weaving linen into cloth to produce your artwork.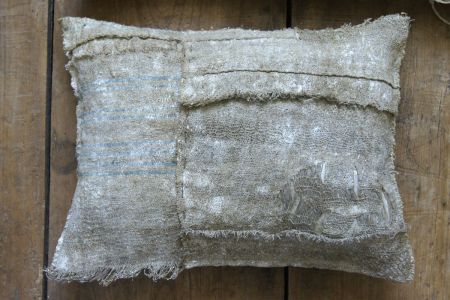 You can weave different textures and experiment with broken borders, insets, wrappings, twill, looping, slits and tapestry inlay.
Then, with your woven cloth we will move to the workshop and you can experiment with gesso, paint and earth pigments before creating your art piece through distressing, fraying, staining, unravelling, darning, stitching and cutting and sewing fragments together.
The Four day Woven Art Course is £340 and includes a delicious lunch, refreshments and materials and is suitable for complete beginners or returning students.
Barn-House Accommodation – In the orchard next to my studio and workshop we have barn-house accommodation available. To find out more please visit the Accommodation tab above.
To enquire about course availability please click here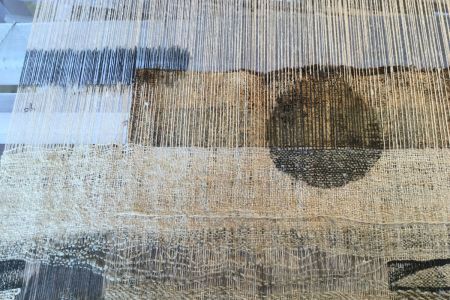 2018 course dates calendar
May 13th to 17th – Field to Fabric Residential 5 day Creative Textile Course – 2 places
May 26th, 27th – 2 Day Weaving course – full
June 17th to 21st – Field to Fabric Residential 5 day Creative Textile Course – 1 place
July 30th to August 2nd – Textile Art Techniques with Alice Fox and Susie Gillespie – full
August 18th, 19th – 2 Day Weaving course – Full
August 27th, 28th, 29th, 30th – Flax processing, linen spinning and creative weaving course – Full
October 6th, 7th, 8th 9th. – Flax processing, linen spinning and creative weaving course – full
October 13th and 14th – 2 Day Weaving course – 1 place.
November 4th and 5th – 2 day weaving course – 6 places
Please use the contact tab above to enquire about course and accommodation availability if I don't get back to you within a day or two please try again as sometimes the enquiries do not reach me. Thanks Susie.
I also have gift vouchers available if you would like to give a course as a present.