RESIDENTIAL 5 DAY CREATIVE TEXTILE COURSE
Flax processing, spinning, weaving & natural dyeing with Susie Gillespie

2017 Dates: July Mon 3rd to Fri 7th 2017 – Full
2017 Dates: October Sun 1st to thur 5th – Full
2018 Dates: May Sun 13th to Thur 17th – 5 places
Susie's workshop and studio are set in the orchards of a 15th Century cider farm in South Devon . It is the perfect place for you to relax and be inspired on this 5 day Residential Creative Textile Course.
Susie Gillespie will show you how to process and spin flax grown in her orchard to make a hank of linen, colour it using natural dyes and then weave a cushion cover or piece of artwork. The course is 5 days and includes all materials, accommodation, breakfast, lunch and dinner.
You can relax during the evenings by bringing along your own knitting, crochet and sewing project and share your ideas with the other students. Or take the opportunity to explore the beaches, countryside and river estuaries of South Devon recording what you find in sketches, photographs and found items and return to the studio to incorporate your ideas into your woven art work.
Susie plants the flax seed (which is also called linseed) in spring and it is ready to harvest around August time. Susie will talk you through the process of rippling, retting and drying and you will be supplied with the flax stems from last summers harvest for you to start the next stages of processing the flax into linen yarn.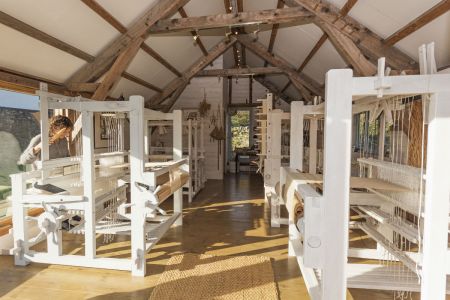 Firstly you will put the stems through a giant wooden crimp called a breaker to reveal the flax fibres. The remaining bits of hard pith that are left on the fibres are then removed with a wooden knife called a scutch.
To prepare the fibres for spinning, you will comb them through fine metal tines (prongs) called a hackle and they will begin to resemble the pony tail of a flaxen haired maiden.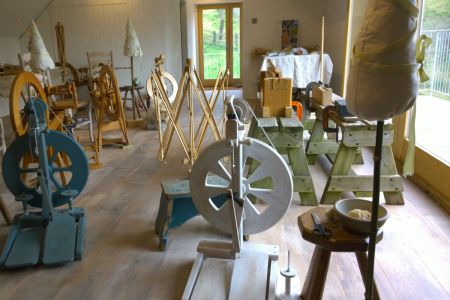 The pony tail is then spread out on a table and wound onto a distaff. Susie will then show you how to tease the fibre off the distaff and onto the spinning wheel to produce the linen yarn.
Once you have a hank of your own linen yarn you can colour it using natural dyes and then move on to the weaving studio where there are large four shaft floor looms and begin the process of weaving the linen into cloth to produce your own cushion cover or artwork.
Susie will show you basic weaving techniques as well as her more unusual ideas in weaving.
You can weave different textures and experiment with wrappings, twill, looping, slits and tapestry inlay. You can also experiment with gesso, paint and earth pigments and if you are making an art piece distress, fray, stain, unravel, darn, stitch, cut and sew fragments together.
Suitable for complete beginners and experienced spinners and weavers and you will come away with your own linen cushion cover or piece of artwork designed and created by you.
Course price £875 full residential and includes 5 days tuition, all materials, accommodation in the Farm House and Barn House, breakfast, lunch and dinner.
To enquire about course availability please click here
2017 Course dates: July Mon 3rd to Fri 7th 2017 – Full
2017 Course dates: October Sun 1st to thur 5th – Full
2018 May course dates: May Sun 13th to Thur 17th with accommodation dates Sat 12th to Wed 16th – 5 places
To enquire about course availability please click here
Dear Susie and Dave,

Thank you for a most wonderful week's stay. I left tired but fulfilled and inspired, and highly charged with so many ideas and influences. The course was everything and more than I expected, and to come away with a finished piece was highly satisfying. I am using it as a runner on our dining table as I write.

You both led us through the linen making process in such a relaxed and non dictatorial but encouraging way, allowing us to discover for ourselves, which was much appreciated. Alison's contribution 'thinking outside the box' midway, complimented the session extremely well and I must say for me has given confidence to free up and experiment with anything in anyway. Very releasing.

The accommodation was really comfortable and your home so stylish. You were so generous with all the delicious meals, ginger biscuits and 'evening cake', wine, walnut bread, and the variety of a meal at your Mum's (not even brisket) was fun. On top of that you generously took us out for lovely refreshing, beautiful walks.

Thank you so very much.

Oops, I did forget and left behind a most important treasure. I left hanging in my room on the pegs two skeins of flax, one the untreated flax stem and the other the carded skein of hairy flax fibre. I think they looked so attractive hanging there, and not part of my clobber, I just forgot to take them. I wonder whether you could post them to me. I am sending a reply paid envelope so do wait until that arrives. They are a most important prop when I enthuse about your course and what I have done.

With best wishes,

Julia
2017 course dates
July 3rd to 7th Residential 5 day Creative Textile Course – full
July 31st, Aug 1st, 2nd, 3rd – Textile Art Techniques with Alice Fox and Susie Gillespie – full
August 21st, 22nd, 23rd, 24th – Flax processing, linen spinning and creative weaving course – full
September 16th, 17th – Weaving course – full
October 21st, 22nd – Weaving course – full
October 1st to 5th Residential 5 day Creative Textile Course – full
November 4th and 5th – Weaving course – full
2018 course dates
March 3rd, 4th – Weaving course – 6 places
March 18th, 19th, 20th, 21st – Textile Art Techniques with Alice Fox and Susie Gillespie – full
April 12th, 13th, 14, 15th – Flax processing, linen spinning and creative weaving course – 6 places
April 26th, 27th – Weaving course – 6 places
May 13th to 17th – Residential 5 day Creative Textile Course – 5 places
May 26th, 27th – Weaving course – 6 places
July 7th, 8th – Weaving course – 6 places
July 30th to August 2nd – Textile Art Techniques with Alice Fox and Susie Gillespie – 3 places
August 27th, 28th, 29th, 30th – Flax processing, linen spinning and creative weaving course – 6 places